Dental implants are titanium posts that are implanted into the jaw to replace individual missing tooth roots. A dental restoration, such as a porcelain crown, is attached to the top of a connecting piece (abutment) to securely replace the missing tooth. Dental implant solutions are the ideal solution for missing teeth. They look, feel, and behave like your natural teeth, allowing you to chew and talk like normal. As a dental implant post fuses with the jawbone, it becomes a permanent part of the mouth and helps keep bone in your jaw, eliminating a "collapsed" look that often happens with missing teeth.
Explore Topics On This Page:
What Are the Different Types of Dental Implants?
Due to the varying needs of patients with missing teeth, our experienced oral surgeons offer several dental implant solutions to provide the best possible outcome. Whether you have one missing tooth, several gaps throughout your smile, or an entire arch of teeth that needs to be replaced, we can customize your dental implant procedure to ensure you receive a beautiful, fully functioning smile.
Single-Tooth Implants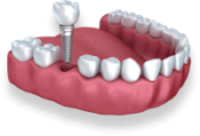 If you have one or more missing teeth, you may qualify for single-tooth implants to replace each tooth. This involves the placement of a titanium post into each gap, with a tooth-colored crown affixed to the top.
Implant-Supported Dentures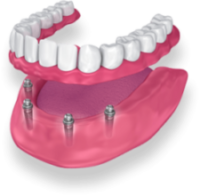 Implant-supported dentures, also called implant dentures, are a highly beneficial solution for those who need to replace a full arch of missing or severely damaged teeth. A series of implants will be placed along the arch, on top of which a custom-made prosthesis is anchored.
All-on-Four and All-on-Six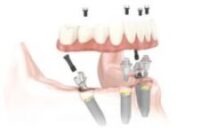 With All-on-Four, you do not need a dental implant for each and every one of your missing teeth. Depending on the quality of your jawbone, you may need around four to six dental implants placed along your arch, some of which may be angled to maximize contact with the surrounding bone.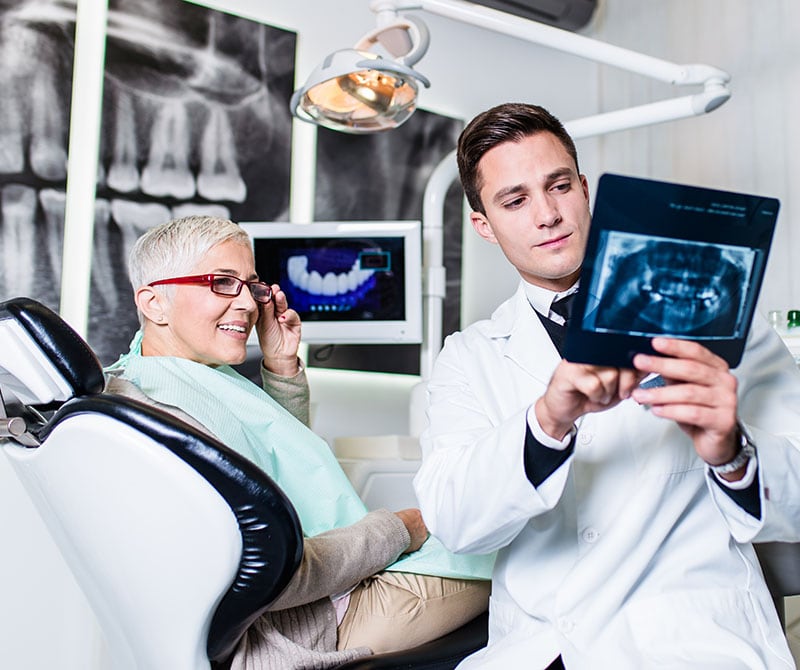 How Do I Choose the Best Implant Dentist?
Finding the right dentist to perform your dental implant surgery is essential to the long-term success of your tooth replacement. While many dental professionals offer dental implants, not all have the training and expertise to ensure a predictable outcome. Since this procedure can often be complex, it is important that you find a qualified specialist who is capable of performing a safe surgery with minimal risks. Our dental implant team encourages you to do your research to find a credentialed implant provider who is experienced and makes you feel confident in their skills.
What Does the Dental Implant Process Involve?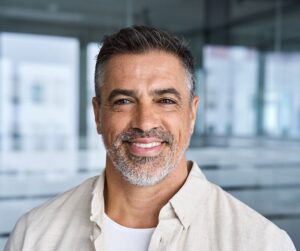 Many people put off the miracles achieved by dental implants for a very good reason — it can be a hassle, traveling from one office to the next. Not here! At Dental Surgical Group, we can handle any case from start to finish, all in our own comfortable office. We do everything in-house. Our patients not only avoid the hassle of visiting multiple offices, they have the comfort of knowing we take responsibility for a successful procedure. Having spent thousands of hours transforming patients' smiles through dental implant technology, our team is committed to making the process as easy as possible.
Step #1: A Comprehensive Oral Exam
The dental implant process begins with a thorough examination and a review of your history. Why? We want to make sure any medications, allergies, or other health issues are taken into account. Using our state-of-the-art 3D dental CT scanner, we capture a detailed image of your mouth, jaw… whatever is needed to plan your procedure…. making the actual procedure not only minimally invasive, but assuring a speedy healing process, and practically eliminating discomfort!
Step #2: The Plan
The most crucial step, the information gathered from Step #1 is entered into our computer. Our patented software combines the data, resulting in the best placement of the implant, abutment, and restoration.
Step #3: Implant Placement
The implant is placed securely and in an uncomplicated fashion using the surgical guide, which allows minimally invasive work.
Step #4: Final Restoration
In the final step, we plan the abutment and crown with the CEREC® software, which we then produce quickly and very precisely in our laboratory.
How Much Do Dental Implants Cost?
Each dental implant costs approximately $1,700 to $5,000 on average, but this range can greatly vary based on several factors. The experience of your doctor, geographic location of the practice, number of implants you are receiving, and complexity of your procedure all influence the total amount you can expect to pay. While dental implants may be more expensive than alternative solutions, implants can last for decades, if not one's entire lifetime, making them a worthwhile investment into your long-term dental health.
Since our dentists perform all steps of the dental implant process in-house, this can often reduce overall treatment cost, while providing the convenience of a more efficient procedure. In addition, our team accepts dental financing if you would like to divide your total cost into smaller, monthly payments. We believe everyone deserves the life-changing results that dental implants can provide, and we would be happy to help you find the right financing plan to make your dream smile a reality.
For more information about our dental implant solutions, please contact Dental Surgical Group today to schedule your complimentary consultation. This includes a full oral examination, digital X-rays, and intra-oral photos (if needed). We look forward to helping you get started!